A Gathering in Worship Offered by the People of the Church of Christ, Union
Seventeenth Sunday after Pentecost (Proper 22)
World Communion Sunday 10:30 am
Meditation No matter how different we are we will always be bonded with our faith…. Let us celebrate our faith and our unity on the occasion of World Communion Sunday
Prelude
Welcome
From There to Here: We Gather
¨ The Call
Blessed are you who bear the light in unbearable times, who testify to its endurance amid the unendurable, who bear witness to its persistence when everything seems in shadow and grief.
Blessed are you in whom the light lives, in whom the brightness blazes— your heart a chapel, an altar where in the deepest night can be seen the fire that shines forth in you in unaccountable faith, in stubborn hope, in love that illumines every broken thing it finds. May the lightbeams of grace surround us all. Amen.
~ Jan Richardson from Circle of Grace: A Book of Blessings for the Seasons
¨ Hymn #163 Black Many Are the Lightbeams Lightbeams
Many are the light-beams from the one light. Our one light is Jesus. Many are the light-beams from the one light; we are one in Christ.
Many are the branches of the one tree. Our one tree is Jesus. Many are the branches of the one tree; we are one in Christ.
Many are the gifts given, love is all one. Love's the gift of Jesus. Many are the gifts given, love is all one; we are one in Christ.
Many ways to serve God, the Spirit is one; servant spirit of Jesus. Many ways to serve God, the Spirit is one; we are one in Christ.
Many are the members, the body is one; members all of Jesus. Many are the members, the body is one; we are one in Christ.
¨ Prayer of Approach and Confession
One: God's grace was given to us in Christ before the ages began. In spite of God's love for us and gift of love to us, we often act in destructive and hateful ways. Trusting in Christ's mercy that never ends, let us with honesty confess our sins before God and one another.
One: Gracious Lord, you created the whole world and called it good,
All: but we look out at your world and see division and suffering.
One: You call us to maintain the unity of spirit in the bond of peace,
All: but we choose division over diversity, confrontation over civility, conflict over peace born from justice.
One: You call us to love the least of these among us,
All: but we hear the cries of the oppressed and choose our own comfort. We allow senseless suffering rather than sacrifice for our neighbors. Forgive us. Grant us fresh vision to see one another as siblings in Christ. Rekindle in us your gifts — the spirit of power, love and self-discipline — that with faith in Christ, we might be made new and be part of bringing forth your peaceable kingdom. Amen.
~ Prepared by the Rev. Katie Owen Aumann, senior pastor, Morningside Presbyterian Church, Atlanta
¨ Words of Assurance
¨ Passing the Peace
Announcements, Prayers and Celebrations
Announcements
Lighting the Justice Candle
John Robert Lewis (February 21, 1940 – July 17, 2020) was an American politician and civil rights activist who served in the United States House of Representatives for Georgia's 5th congressional district from 1987 until his death in 2020. He participated in the 1960 Nashville sit-ins, the Freedom Rides, was the chairman of the Student Nonviolent Coordinating Committee (SNCC) from 1963 to 1966, and was one of the "Big Six" leaders of groups who organized the 1963 March on Washington. Fulfilling many key roles in the civil rights movement and its actions to end legalized racial segregation in the United States, in 1965 Lewis led the first of three Selma to Montgomery marches across the Edmund Pettus Bridge where, in an incident which became known as Bloody Sunday, state troopers and police attacked Lewis and the other marchers.
Word And Worship
Special Music Spirit, Come Down Mark Hayes Union Church Choir
Spirit, come down like the days of old. Spirit, come down and fill my soul. Lord, I want to be used by You, to feel Your power in all I do. Now on the day of Pentecost the disciples of the Lord were in one place when suddenly from heaven on high came the sound of a mighty wind. That mighty wind filled the place and the Spirit appeared like the tongues of fire. It took control of everyone, filling them with power. There were people there from every land yet they heard God's word in their native tongue, for the Spirit had helped them understand the mighty word of the Lord.
Hebrew Scripture Lesson Habakkuk 1:1-4; 2:1-4
The oracle that the prophet Habakkuk saw.
O LORD, how long shall I cry for help, and you will not listen? Or cry to you "Violence!" and you will not save? Why do you make me see wrong-doing and look at trouble? Destruction and violence are before me; strife and contention arise. So the law becomes slack and justice never prevails. The wicked surround the righteous– therefore judgment comes forth perverted. I will stand at my watchpost, and station myself on the rampart; I will keep watch to see what he will say to me, and what he will answer concerning my complaint. Then the LORD answered me and said: Write the vision; make it plain on tablets, so that a runner may read it. For there is still a vision for the appointed time; it speaks of the end, and does not lie. If it seems to tarry, wait for it; it will surely come, it will not delay. Look at the proud! Their spirit is not right in them, but the righteous live by their faith.
Children's Moment Please join in singing as we bless children everywhere:
May God's blessing guard, protect and guide you. God bless you, God bless you. Our savior's loving arms be ever 'round you. God bless you, God bless you.
Please note that Union Church services are livestreamed, including the Children's Moment. A "no camera zone" is at the back of the balcony, behind the AV booth.
Gospel Lesson Luke 17:5-10
The apostles said to the Lord, "Increase our faith!" The Lord replied, "If you had faith the size of a mustard seed, you could say to this mulberry tree, 'Be uprooted and planted in the sea,' and it would obey you. "Who among you would say to your slave who has just come in from plowing or tending sheep in the field, 'Come here at once and take your place at the table'? Would you not rather say to him, 'Prepare supper for me; put on your apron and serve me while I eat and drink; later you may eat and drink'? Do you thank the slave for doing what was commanded? So you also, when you have done all that you were ordered to do, say, 'We are worthless slaves; we have done only what we ought to have done!' "
Visual Reflection
Responding To God's Love in Communion
Invitation to Communion
One: The Lord be with you.
All: And also with you.
One: Lift up your hearts.
All: We lift them to the Lord.
One: Let us give thanks to the Lord our God.
All: It is right to give our thanks and praise.
Ringing of the Peace Bell
The Union Church Peace Bell was created by Jeff Enge in honor of Union Church member Carl Eschbach (1904-1998). A twin bell hangs in Berea's sister province in Japan and is also rung in the hope of peace for all nations.
Communion Prayer EJ Stokes
We give you thanks and praise, God of all Creation, for the blessing of your earth and all your children, for the mercies you pour forth in fresh rains and harvests of plenty, for joy that comes in the morning. We are a grateful people. You created a world of harmony and peace, but our yearning for power and privilege throughout history led to division and conflict, suffering and violence. We give thanks that you sent prophets and poets to lament and remind to bear witness and call us to yet a better way. to write the vision of a peaceable kingdom for all to see. With fresh eyes and renewed hope, we join our voices with those around the world and with your heavenly chorus to sing;
Sanctus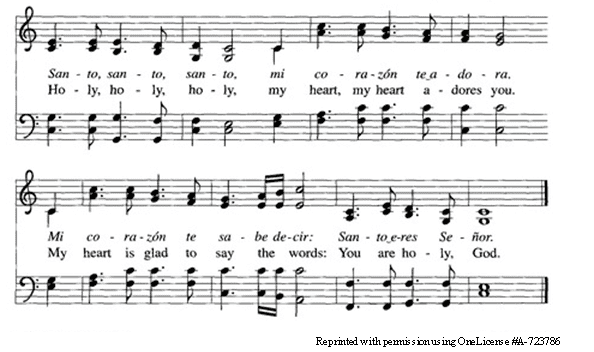 Words of Institution
One: We give you thanks that in the fullness of time, you sent your Son Jesus to bear witness to your mercy, grace and love. In his living, he showed us how to love. In his dying, he offered us undeserved mercy. In his rising, he granted us grace. We remember that in trial and in rejoicing he gathered with friends, even on the night of their desertion and betrayal. On that night he took bread, blessed it to you, and broke it, giving it to the disciples and saying,
All: "This is my body, broken for you. Take and eat, and when you do remember me."
One: In the same we he then took a cup, and pouring, he offered it to those gathered, men and women, young and old, and said:
All: "This cup is my blood poured out for you for the forgiveness of sins; not just for your sake, but for the sake of all. Take, drink, and when you do, remember me."
One: Through the gift of faith, even faith as small as a mustard seed, his witness rekindles in us the gifts of God, not so that we can hold onto these gifts for ourselves but so that we can be united across the globe as one family of faith gathered around one table, sharing in one holy meal, sustained by a love that binds us together in peace.
Pour out your Holy Spirit upon our many tables trusting that Christ is the host of our sacred meal together. May the blessing of grain from the earth and fruit of the vine be a reminder of the true joy of communion that unites us in one worldwide covenant of love.
Serving One Another
All who seek the love of God are welcome at this meal and are invited to freely receive from it. You do not need to be a member of this church or any other, and persons of every age and understanding are welcome at this table.
When invited please come to one of the stations by exiting your pew to the left and returning by the right. At the head of the aisle, please take a piece of bread and a small cup. Eat and drink both and place your empty cup in the appropriate tray as you return to your seat.
If it is not convenient to come forward, the elements can be brought to your seat by signaling to the ushers at the head of the aisles. All the bread is gluten-free, and the cups are filled with non-alcoholic grape juice. If it is not your tradition or preference to receive, we hope you feel welcome to simply "participate by presence," and are invited to join in prayers for the unity of the Spirit and the strengthening of all people in ways that fit your tradition.
Offering Music
A Chance for Generosity: www.easytithe.com/union
Our gifts help sustain this particular community of caring by sustaining the building, pastor and staff, and all the materials that make our ministry of healing, justice, and teaching available to all in need. In addition, a portion of our contributions flows out to aid those in need via many external ministries.
Many friends give online, and you can use your smart phone or computer and go to www.easytithe.com/union. You don't have to register to make a contribution, but if you do, it can make future generosity that much easier. Baskets are placed at the head and foot of each aisle for those who wish to make an in-person donation. Electronic donations can be made very simply and easily at: https//: www.easytithe.com/union
You can even give by text! Text to 859-448-3403 (Example: Text "$50.00 Offering")
You can also use US mail! Mail to: 200 Prospect St., Berea, KY 40403
Your contribution is love made visible. Thank you!
Community Prayer of Thanksgiving EJ Stokes, Reader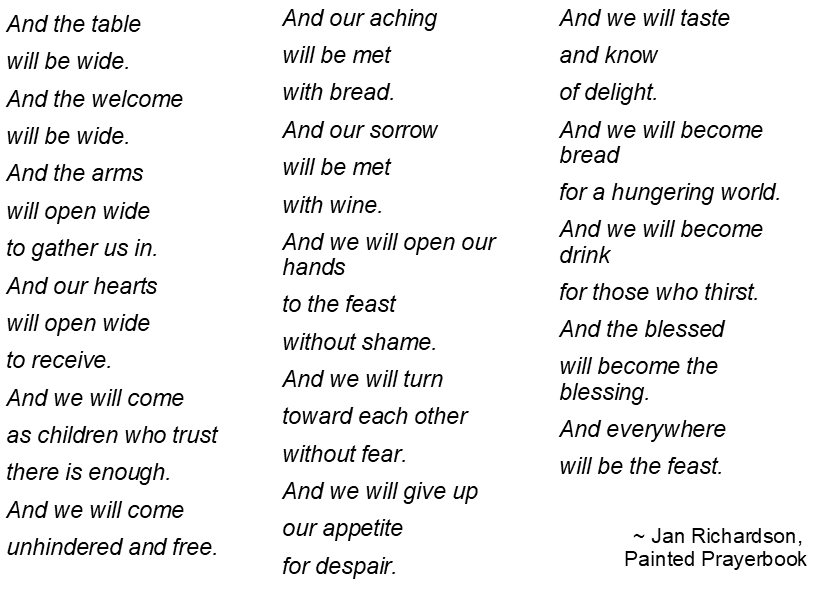 Our Lord's Prayer
All: Our Maker, Our Mother, and Our Father, who art in heaven, hallowed be thy name; Thy kingdom come, Thy will be done on earth as it is in heaven. Give us this day our daily bread, and forgive us our sins as we forgive those who sin against us; and lead us not into temptation, but deliver us from evil: For thine is the kingdom, and the power, and the glory forever. Amen.
From Here to There
Hymn #397 Thank You God, for Sisters, Brothers
Thank our God for sisters, brothers, one by grace in harmony,
Joining heart to heart with others, making strong community.
With the cross of Christ our standard, let us sing as with one voice,
Glory, glory, yours the promise: we who are the church rejoice.
2. Praise to God for congregations, keeping faith with Christ as guide;
Many tongues of many nations, song and service unified.
Sweet the psalm and sweet the carol, when our song is raised as one.
Glory, glory yours the power, as in heaven your will be done.
3. Holy is your name forever! Heal divisions that remain;
Bless the church's new endeavors; make our witness one again.
One in Christ and in Christ's gospel, make us one we now implore.
Glory, glory, yours the glory, then and now and evermore.
¨ Benediction
May God prosper you. May your days be long and your nights serene. May your friendships honor you, and your family love you. May you eat at your table, and may you be gathered into to God's embrace with a smile.
Postlude
Especially In Our Prayers
¨ Each week we join millions of Christians who pray for one another through the ecumenical prayer cycle and, locally, the Berea Ministerial Association's prayer cycle (Link to World Council of Churches Ecumenical Prayer cycle. https://union-church.org/ministries/prayer/). Let us hold the people of Colombia, Ecuador and Venezuela; and our brothers & sisters at St. Clare Catholic Church; and the peoples of every time and place uniting in God's work in our hearts, and pray for them. Please hold these concerns in your prayers, today and throughout the week.
¨ Those affected by the Covid-19 virus, their families and friends living with fear, anxiety, and feelings of isolation, may God bring peace to all who love them; and our wider community as we cope with the new realities of living, including the now over 16,900 Kentucky residents, and 294 Madison County residents, who have died to date from Covid-19.
¨ The families and friends and for all the emergency responders to the floods in our Eastern counties: that safety return, that homes be rebuilt, that all needed help will come.
¨ Prayers for all the people of Ukraine for their safety and sovereignty. Prayers also that the government of Russia will turn to reason & respect for their own peoples' lives as well as for Ukrainian families.
¨ All those seeking a new and just society and those fearful that they will be supplanted, may God open their hearts and include them in grace.
¨ Our church family members in nursing homes or who are homebound: Jan Hamilton, Betsy Hoefer, Dorie Hubbard, Loyal Jones, Lois Morgan, Cheryl Payne, Alva Peloquin, Laura Robie, Betty Wray, Sally Zimmerman
¨ Families and Friends in Crises…may God be present to every need and heal every rift and wound and those who care for them.
¨ Maggie Park and her family, at the death of her cousin, Nicholas Gwiazdowsky.
¨ Betsy Hoefer, now returned to Telford Terrace after hospital stay.
¨ Dottie Lovell, recovering from her broken back.
¨ Patsy Boyce, sister-in-law of Bob and Jean Boyce, facing health challenges.
Cecelia McKinney, whose Florida home was flooded in the Hurricane
¨ Rev. Mark Caldwell-Reiss, in the recent death of his mother
¨ Betty Hibler, in her move to Black Mountain, NC.
¨ The Stolte family, grieving Bill's death. Annriette's address is 579 Alexian Way #417 South; Signal Mountain; TN; 37377.
¨ Mary Nash's family and many friends at her death on September 17.
¨ JoAnn Russell, Reda Hutton's aunt, facing several medical challenges.
¨ Michelle, beloved nurse at Morning Pointe, undergoing treatment for cancer.
¨ Jess Burton & Jake Graber and their little girl, Lila, who has serious gastric issues.
¨ Important dates—if we haven't got yours, let us know. We'll help you get connected in FellowshipOne Go!
Birthdays: today, Oct. 2 – Jeff Melton; 3 – Dorie Hubbard, Ellen Mink, Dana Carlberg; 6 – Scott Smith, Paige Garrett; 7 – Laurinda Pool, John McWilliams; 8 – Eric Dodson, Landon Connelly
Anniversaries: today, Oct. 2 – Josh & Jessie English; Oct. 3 – Brice & Meaghan Catlett, J.R. & Kelly Anderson