LOVE DEMANDS JUSTICE
The word "justice" comes from the same root as "justified margins." It means square. Even. Right. (Like "right angles.") In French Bibles, the word we translate "righteousness" in English is translated "justice."
Because we take the work of Christ in the world seriously, we at Union Church Berea also take justice seriously. We believe that love demands that we pay close attention to whether all in our communities have equal access to fair housing, fair wages, healthy food, jobs that matter, and access, as well, to some kind of recourse when these things fail. We believe that those who do have recourse and resources owe it to their sisters and brothers in the human family to share those advantages. We don't believe the joys of life and love are limited, so that if someone else gains, I must lose. We believe that when one gains, all gain.
Our Fellowship Principles state that we "work with those who work with Christ," and we see Christ working for justice. In fact, a quick concordance search of the Contemporary English Version of the Bible (the ones we provide in our pews) shows 155 references to "justice." There are dozens of injunctions to care for "widows and orphans"–the biblical shorthand for the most helpless in the community. Over 2,000 times, the Bible enjoins us to care for the poor!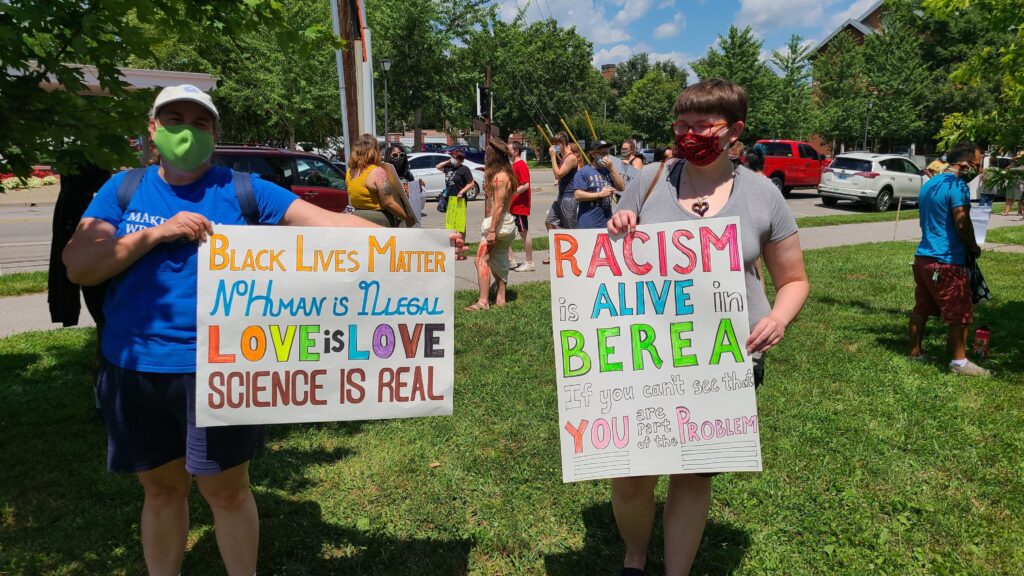 There are nearly as many ways for individuals to join in the struggle to achieve justice in our world.
We are active in our local government and support local efforts to share resources, such as Berea Faith Community Outreach.
We write letters to lawmakers and representatives.
We give money to charities, from local to global, working to end hunger.
We support equal rights for all, fair wages, equal pay for equal work, fair immigration policies, to name just a few.
Each week in our church services, we also honor individuals and groups we see working for justice and joy in the world. If you would like to suggest someone we can light the Justice Candle for, find out how here.
Most importantly, if you would like to work with us for justice, whether in something we are already doing or in something else you'd like to suggest, you would be more than welcome!