AS OF JULY 23, 2022, MADISON COUNTY BACK IN RED
Dear Church Friends and Family,
Madison County Covid numbers have increased sharply and put us in the "RED" zone. Earlier the Church Council instituted guidelines to help us keep safe under changing conditions. Here's what you need to know:
WE WILL BE HOLDING IN-PERSON SERVICES TOMORROW, July 23, and IN THE FUTURE but with limited capacity. If you are at-risk in anyway (under-vaccinated, immunocompromised, caring for someone vulnerable, etc), we're recommending that you stay home, avoid church and ANY gathering of people. 
Worship Attendance will be limited to 50 people. Masks will be required for worship. Because of the late notice, we will rely on your judgement about coming in person this week. In future we may return to a reservation system. 
Alas there can be no congregational singing. 
We don't think it will be safe to serve food, even outdoors, due to the removal of masks and the close proximity that naturally happens when we chat and eat. 
As ever, our first priority is the safety and well-being of all people. The rising numbers of infections have included a growing list of Union Church family and participants, so we are working hard to keep the spread down. Caring for our neighbors and working for the healing of all is an act of Christian service. Thanks to all of you for playing your part and for caring for one another.
With care and caution,
No nursery or children's church while Madison County is in Red Zone for Covid
WHEN MADISON COUNTY IS IN YELLOW ZONE FOR COVID:
For those who are planning to attend in person here are some things to be aware of:
For broadcast purposes we are starting right at 10:30am, so plan to arrive a little earlier or risk being caught on camera sneaking in late (). The prelude will start at 10:25, and we encourage everyone to be seated by then.
We will be keeping one of the camera's in the side aisle closest to the Boone Tavern, which might block your regular view, just FYI.
Be careful of a few cords and cables: we are working on safe and attractive routing, but it may take some experimentation.
There will be an opportunity to "Pass the Peace" to those watching at home by coming to one of the cameras. It will be fun to see anyone who wishes to share!
Children are welcome in the service, or you can stay with them in the Nursery
There will be a nursery assistant available in the nursery space to provide support for families who are supervising their own children there,
The nursery and playground will be open for families to use if you supervise your own children,
There will be a device for listening/watching the service in the nursery,
We anticipate adding full nursery services once under 5s can be vaccinated,
The children's Worship Center in the back of the sanctuary will have activities for our youngest members!
SEE THE GUIDELINES cBELOW FOR DECISION-MAKING PROCESS AS TO WHETHER WE GATHER FULLY IN-PERSON OR UNDER COVID-RELATED RESTRICTIONS (BASED ON MADISON COUNTY HEALTH DEPARTMENT GUIDELINES
YOU CAN STILL WATCH OUR LIVE STREAM EACH WEEK AS WELL
Note: We have streamed our services live for several years, and regularly have watchers from several countries; however, during the pandemic, our online service has become our only service, and is better and richer than ever before. The order of service is more or less the same as in-person services. A whole team of people spends a great deal of time and energy seeing to it that our virtual services are as diverse and interesting as our in-person ones. You may watch here on our website, on our Facebook page, or on our YouTube channel. On the latter two options, you will also have the ability to see and join in chat, including greetings, prayer requests, and responses to the service. You will see and hear:
Greetings from various members
A welcome from the pastor
Safely pre-recorded Bible readings and prayers from many members
A children's moment
A dynamic sermon of about 20 minutes
Prayer time. The bulletin will have the main prayer as well as some questions for reflection and meditation, and the pastor will guide us through some of those; a member or friend will also pray and will lead us in the Lord's Prayer. See the form of Lord's Prayer we use in the current bulletin. The one thing we cannot do is have our Embodied Prayer Stations, but you can find suggestions you can do at home here: Spiritual Tools.
A closing hymn, which will be sung solo-style by one singer, with the words on the screen so that you may sing along wherever you are. (The one thing we wish technology allowed was to sing actually together, without digital delays and confusion!)
A blessing and a final, usually meditative, musical selection
LEMONADE IN SHADE WILL NOT BE OFFERED WHILE MADISON COUNTY IS IN RED ZONE FOR COVID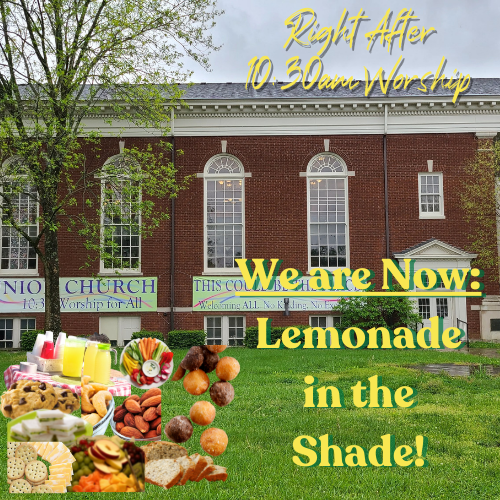 JOIN US OUTDOORS IN THE SHADE EACH SUNDAY DURING THE SUMMER MONTHS FOR GREAT SNACKS, LEMONADE AND WATER.
IF YOU CAN ASSIST US IN BRINGING SNACKS, AND/OR HELP WITH SET UP AND CLEAN UP, PLEASE CLICK