LOVE DEMANDS FAITH DEVELOPMENT
From our Mission Statement:
THOUGHTFUL, INSPIRATIONAL, AND INTENTIONAL FAITH DEVELOPMENT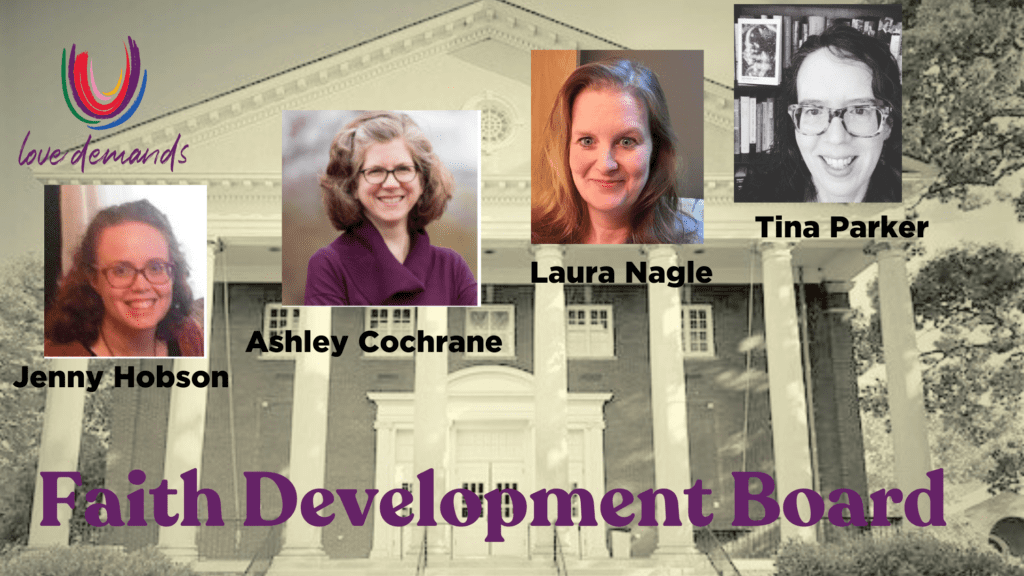 first and foremost
What to expect from this beloved community
We will boldly and creatively embody the life and ministry of Jesus by thoughtfully developing the faith, knowledge, and spirit of persons of every age. Rooted in scripture and drawing on spirit and intellect, we commit to learn and teach a spirituality which deepens our sense of closeness to God. We commit to creative teaching and leadership that inspires and equips ourselves, our children, and our community to live out the justice, compassion, love and joy we believe God intends for all.
The Faith Development Board is responsible for encouraging thoughtful, inspirational, and intentional faith development in all Union Church members and friends, young and old.
Thoughtful. At Union Church it is not enough to simply seek out and implement conventional Sunday School programs. (And we don't believe that children are the only ones who need their faith developed.) Love demands that we put thought and prayer into the changing needs of our congregation, seek to meet the needs that are already apparent, and stretch each other's minds and hearts to recognize needs we hadn't considered.
Inspirational. To "inspire" means to "breathe into." It is possible to attend church for years and never hear anything new or startling–never to breathe anything new. Union Church never wants that to happen. Our Faith Development Board hopes to breathe new life into our spiritual practices, offering us inspiring tools and programs all along the way.
Intentional. Love demands intentionality in all we do. This doesn't mean carrying around a grim burden of "must" and "should." It begins with simply recognizing where we are, deciding where we want to go, and intentionally seeking the steps that will move us in that direction. Our Faith Development Board walks beside us on that journey.
This board, which always includes the Pastor(s) and Youth Director(s), develops and oversees the general education program of the church.
Their responsibilities include:
Supervising the Sunday School
Recruiting and training of volunteer Sunday School teachers, adult class teachers, small group ministry leaders, youth workers, and childcare workers
Sponsoring retreats
Bible study and discussion groups
Ensuring that child care is provided during church functions
Developing new educational and spiritual activities with the collaboration of other boards as appropriate.