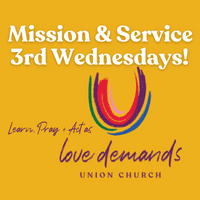 This month our pilgrimage team is on a mission trip and will report back next month! Join us then!
Mission & Service "Learn+Pray+Act"
Each month join for a special interactive exploration of our faith in action. Learn about outreach and service you can be a part of, and learn from partner groups, members and friends what God is calling and empowering us to do. Sponsored by the
Mission and Service Board! 
Hourly Schedule
February 16
7pm

-

8pm

Does Jesus Belong in Government?

On Feb 16th, come learn about our partnership with the Kentucky Council of Churches and the public advocacy at the national and Kentucky legislative level. Our own Rev. Kent is the chair of the Justice and Advocacy Commission of the KCC. He will engage us in a conversation about Christian advocacy and how we can put our prayers into action to help others. Join us on Zoom, 7pm this Wednesday. https://us02web.zoom.us/j/85764241129?pwd=UWJhd21SeFJlWkxzZG14WXZHaTdKUT09
March 16
April 20
7pm

-

8pm

Border Ministry with Dorothy Chao

Learn about partners on the Mexican border and proposed mission trip that will go there in May!